Four-pole circuit breaker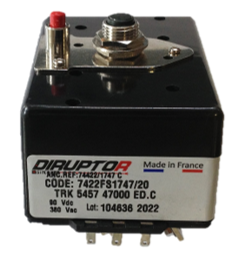 This tetrapolar circuit breaker is according to the EN 60934 standard and meets the NF F 62-001 standard (railway rolling stock) only for the AN and AS curves. The size range extends from 0.04 Amps to 40 Amps. Used in three-phase alternating current (AC) (up to 400 Volts 50/60 Hertz) with protection and cut-off of the 3 PHASES and NEUTRAL.
Available in thermal curves also in magnetothermal and magnetic curves.
Different mounting and fixing possibilities (more information below technical specifications).
↓
Référence 7423402 15D8410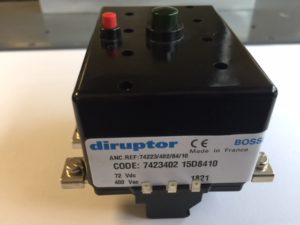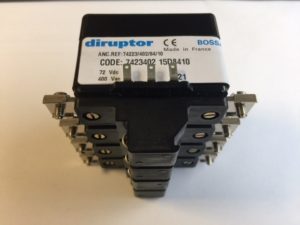 Référence 7422104 20D41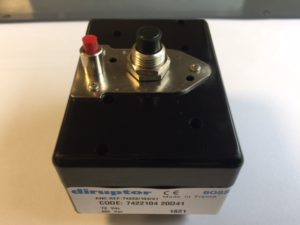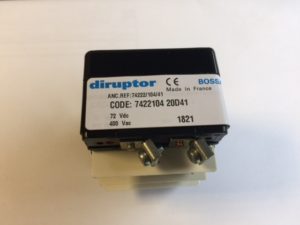 Référence 7412104 16D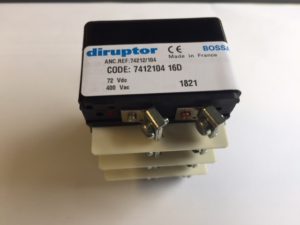 Référence 7422204 20AS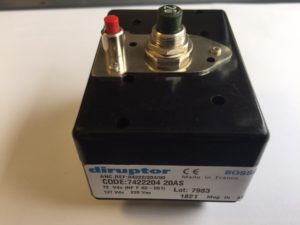 | | |
| --- | --- |
| Reference | Designation |
| 7412104 12D | DISJ. DIRUPTOR TETRA MT 12A/D |
| 7412104 12D41 | DISJ. DIRUPTOR TETRA MT 12A/D |
| 7412104 16D | DISJ. DIRUPTOR TETRA MT 16A/D |
| 7412104 16D41 | DISJ. DIRUPTOR TETRA MT 16A/D |
| 74121047.5D | DISJ. DIRUPTOR TETRA MT 7.5A/D |
| 7412FS1864/18 | DISJ. DIRUPTOR TETRA 18A |
| 7412FS1864/32 | DISJ. DIRUPTOR TETRA 32A |
| 7422104 10D | DISJ. DIRUPTOR TETRA MT 10A/D |
| 7422104 16D41 | DISJ. DIRUPTOR TETRA MT 16A/D |
| 7422104 25D41 | DISJ.DIRUPTOR TETRA MT 25A/D |
| 7422104 6C | DISJ. DIRUPTOR TETRA MT 6A C |
| 7422204 32D41 | DISJ. DIRUPTOR TETRA MT 32A/D |
| 7422FS0821/6 | DISJ. DIRUPTOR TETRA MT 16A/D |
| 7422FS1747/15 | DISJ. DIRUPTOR TETRA 15A. |
| 7423406 25AS | DISJ. DIRUPTOR TETRA MT 25A |
Technical characteristics
NUMBER OF POLES : 4 poles
CONTROL SYSTEM : With or Without trip button "OFF"
MOUNTING :
Plug-in (20A limitation)
Flush-mounting, 2 screws on front face
Flush-mounting, threaded collar for mounting on front face
Snap on DIN asymetrical rail
Push-push, threaded collar for mounting on front face
Without fixation
Snap on DIN symetrical rail
Plug-in base for print circuit
CONNECTION :
Flush mounting models
Fast connections (male) 6,35 x 0,8 at 45° (In _ 15A)
Terminals at 60° screws with clamps for cable up to 1 x 6 mm2 (In _ 20A)
Terminals at 60°, HS M4 screws for cable up to 1 x 6 mm2 (In _ 20A)
Fast connections (male) 6,35 x 0,8 at 90°
Down pillar type terminals, transversal hole (In _ 40A)
Down pillar type terminals, longitudinal hole (In _ 40A)
Terminals, screws with clamps, 1 at 60°. 1 at 90°, for cable from 6 to 16 mm2
Snap on DIN rail models
Flat terminals, screws with clamps (In _ 20A)
Up pillar type terminals, longitudinal hole (In _ 40A) 
Without fixation models
Terminals design on request
Plug-in base for print circuit
Fast connections (male) 6,35 x 0,8 at 90°
Plug-in
Pins _ 7, 20 mm between axles (série 7000)
CURVES + RAED CURRENT :
Thermal : 0,04 – 32 A
Thermal-magnetic : 0,10 – 32 A
Magnétic : 14 A eff. 20 A AC max
OPTIONS :
Auxiliary contacts NC
Auxiliary contacts NO
Auxiliary contacts changeover
Special contacts for high peak of current, (thermal release only)
Temperature compensation (thermal 2 to 30A, thermal-magnetic 3 to 20A)
Special adjustment for magnetic release
Red push button "ON"
Knurled nut and counter nut for drilling 14,5 mm
Power contacts delivered with shunt
U.L 1077. Recognized
Diruptor 230/400 VAC with 6 kA/AC short circuit capacity
D.C. Diruptor : one pole rated 110/125 V DC or 2-poles 110/125 V DC per pole
Reinforced tropicalization
Magnetic release only "all or nothing"
Individual checking (with tests report)
Change of temperature class (adjustment at 60° C)
Rated current marked on base (beside screw for adjustment)
Rated current marked on push-button "ON", at the top or at the bottom
One pole rated 72 V DC max. nominal (90V test) 230 V AC or multipole 400 V AC
One pole rated 110 V DC max. nominal (137V test) 230 V AC or multipole 400 V AC