Yellow series circuit breaker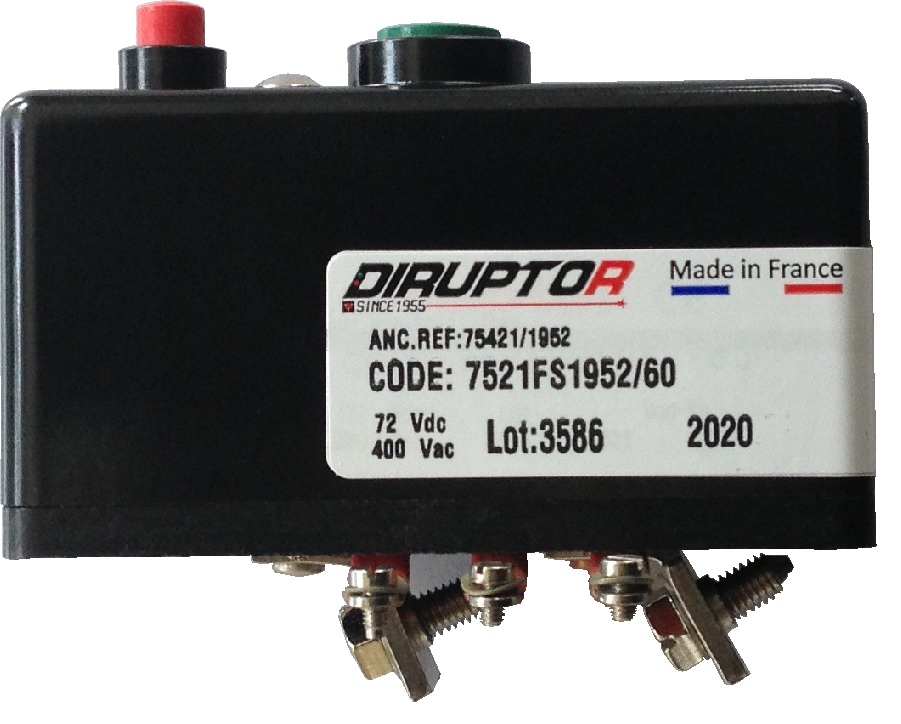 This "super" unipolar circuit breaker complies with the EN 60934 standard and meets the CF 62001 standard (railway rolling stock) only for the BS curve. The size range extends from 2 Amps up to 100 Amps. Used in direct current (DC) (up to 150 Volts according to models) Also used in alternating current (AC) (up to 400 Volts 50/60 Hertz).
Available in thermal and also in magnetothermal curves.
Different mounting and fixing possibilities (more information below technical specifications)
↓
Référence 7521505 50BS53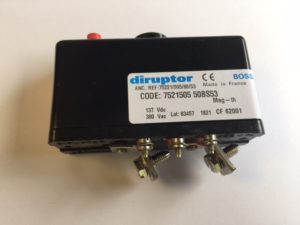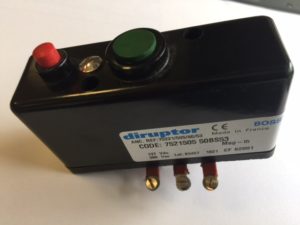 Référence 7521504 6D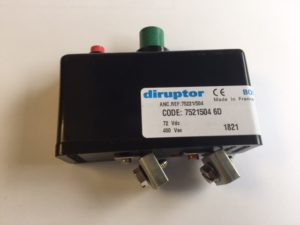 Référence 7521505 6BS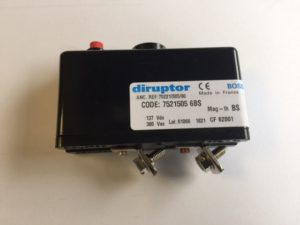 Référence 7527506 50D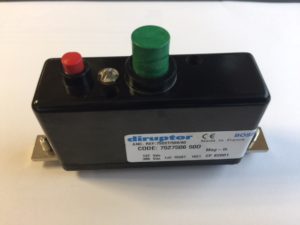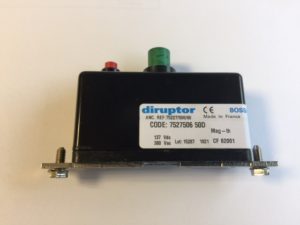 | | |
| --- | --- |
| Reference | Designation |
| 7511505 32BS | DISJ. DIRUPTOR UNI MT 32A |
| 7511FS0757/60 | DISJ. DIRUPTOR UNI 60A |
| 7511FS0757/70 | DISJ. DIRUPTOR UNI 70A |
| 7513FS1930/20 | DISJ. DIRUPTOR UNI MT 20A |
| 7513FS1931/10 | DISJ. DIRUPTOR UNI MT 10A |
| 7513FS1933/6.5 | DISJ. DIRUPTOR UNI MT 6.5A |
| 7520708 20BS | DISJ. DIRUPTOR UNI MT 20A |
| 7520708 20D | DISJ. DIRUPTOR UNI MT 20A/D |
| 7520708 25BS | DISJ. DIRUPTOR UNI MT 25A |
| 7520708 6D53 | DISJ. DIRUPTOR UNI MT 6A/D |
| 7521504 32D | DISJ. DIRUPTOR UNI MT 32A/D |
| 7521504 40D | DISJ. DIRUPTOR UNI MT 40A/D |
| 7521504 60D | DISJ. DIRUPTOR UNI MT 60A/D |
| 7521504 70D | DISJ. DIRUPTOR UNI MT 70A/D |
| 7521505 100T80 | DISJ. DIRUPTOR UNI TH 100A |
| 7521505 10BS | DISJ. DIRUPTOR UNI MT 10A |
| 7521505 10BS74 | DISJ. DIRUPTOR UNI MT 10A |
| 7521505 16BS | DISJ. DIRUPTOR UNI MT 16A |
| 7521505 16BS74 | DISJ. DIRUPTOR UNI MT 16A |
| 7521505 20BS | DISJ. DIRUPTOR UNI MT 20A |
| 7521505 25BS | DISJ. DIRUPTOR UNI MT 25A |
| 7521505 32BS | DISJ. DIRUPTOR UNI MT 32A |
| 7521505 32BS74 | DISJ. DIRUPTOR UNI MT 32A |
| 7521505 40BS | DISJ. DIRUPTOR UNI MT 40A |
| 7521505 40BS53 | DISJ. DIRUPTOR UNI MT 40A |
| 7521505 40BS74 | DISJ.DIRUPTOR UNI MT 40A |
| 7521505 45BS | DISJ. DIRUPTOR UNI MT 45A |
| 7521505 50BS | DISJ. DIRUPTOR UNI MT 50A |
| 7521505 50BS53 | DISJ. DIRUPTOR UNI MT 50A |
| 7521505 50BS74 | DISJ. DIRUPTOR UNI MT 50A |
| 7521505 5BS74 | DISJ. DIRUPTOR UNI MT 5A |
| 7521505 60BS | DISJ. DIRUPTOR UNI MT 60A |
| 7521505 60BS74 | DISJ. DIRUPTOR UNI MT 60A |
| 7521505 6BS | DISJ. DIRUPTOR UNI MT 6A |
| 7521505 6BS74 | DISJ. DIRUPTOR UNI MT 6A |
| 7521FS0721/60 | DISJ. DIRUPTOR UNI 60A |
| 7523502 50T68 | DISJ. DIRUPTOR UNI TH 50A |
| 7523506 10BS | DISJ. DIRUPTOR UNI MT 10A |
| 7523506 30BS53 | DISJ DIRUPTOR UNI MT 30A |
| 7523506 40T80 | DISJ. DIRUPTOR UNI TH 40A |
Technical characteristics
NUMBER OF POLES : 1 pole
CONTROL SYSTEM : With or Without trip button "OFF"
MOUNTING :
Plug-in (20A limitation)
Flush-mounting, 2 screws on front face
Flush-mounting, threaded collar for mounting on front face
Snap on DIN asymetrical rail
Push-push, threaded collar for mounting on front face
Without fixation
Snap on DIN symetrical rail
Plug-in base for print circuit
CONNECTION :
Flush mounting models
Terminals at 60°, parallel wavy washer slotted H screw M5
Terminals at 60°, screws with clamps (range 7500)
Snap on DIN rail models
Flat terminals, screws with clamps (In _ 20A)
Flat terminals, screws with clamps
Plug-in
Pins Ø 8.8 center distance 30 mm
CURVES + RAED CURRENT :
Thermal : 2 – 100 A
Thermal-magnetic : 2 – 70 A
OPTIONS :
Special adjustment for magnetic release
Changeover auxiliary contact
Power contacts delivered with shunt
U.L 1077. Recognized
Reinforced tropicalization
Magnetic release only "all or nothing"
Individual checking (with tests report)
Change of temperature class (adjustment at 60° C)
Rated current marked on base (beside screw for adjustment)
Rated current marked on push-button "ON", at the top or at the bottom
One pole rated 72 V DC max. nominal (90V test) 230 V AC or multipole 400 V AC
One pole rated 110 V DC max. nominal (137V test) 230 V AC or multipole 400 V AC