Hydraulic magnetic circuit breaker bipolar (HM3)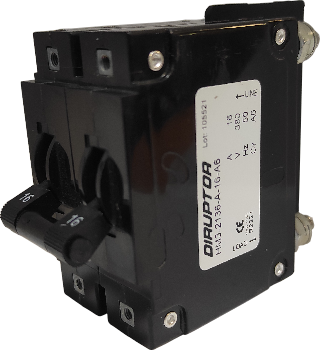 This two-pole hydromagnetic circuit breaker complies with standard EN 60934 and meets standard NF F 62-001 (railway rolling stock). The rating possibilities range from 1 Amps up to 100 Amps. Use in alternating current (AC) (up to 424 Volts 50/60 Hertz).
Hydro-magnetic circuit breakers have no thermal inertia after tripping, reclosing is effective immediately.
They also have no variation in caliber depending on ambient temperature. The nominal current of a HYDRO-MAGNETIC micro-circuit breaker does not vary whatever the ambient temperature.
Technical characteristics
NUMBER OF POLES : 2 poles
CONTROL SYSTEM : Long handle
MOUNTING :
By ISO M3 screw
By 6-32 inch screw
CONNECTION :
Flush mounting models
CURVES + RATED CURRENT :
Hydraulic Magnetic : 1A – 100A
NORMES :
EN 60934    (Circuit breaker for equipment )
NF F62-001   (Micro-circuit breaker for railway rolling stock)
EN 45545-2   (Smoke fire behavior test)
EN 61373   (Vibration and shock tests)
EN 60068-2-11   (Salt spray test)
UL 1077  (Supplementary protectors)